Blood shed for Wildcat win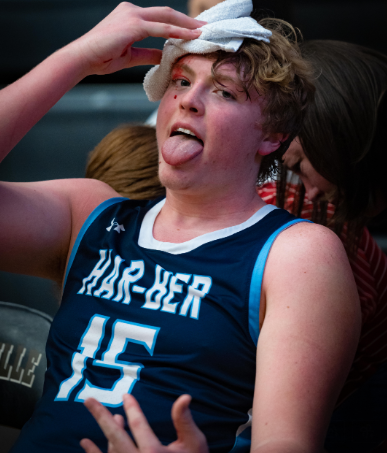 After a loss in their first matchup against the Bentonville Tigers, the Wildcats were determined to return the beating. Through literal blood, sweat, and tears, the varsity boys basketball team pulled out a win against the Tigers. Although sophomore Jaxon Conley felt worried before they took the court, going into halftime down by only one point, he knew that the team could pull through and secure the victory. 
"Before the game I was a little worried because we needed that win," Conley said. "After half time I knew that we could do it. We just needed to keep up the momentum." 
Sophomore Hayden Wood felt like a victory was a necessity after a poor finish at home against the Tigers. 
"We knew we could beat them because we should have beat them at home," Wood said.
According to Wood, the boys never gave up on each other and leaned against one another to overcome adversities. Senior Jake Fotenopulus gave his all against the Tigers even after busting his head open mid game. 
"I busted my head open from a Bentonville player's elbow while going for a rebound," Fotenopulus said. "I noticed I was bleeding when Nate told me that there was blood on the court." 
Fotenopulus was determined to finish the game even after a bloody injury.
"I was hurting but I was more mad that I had to come out of the game," Fotenopulus said. "When I got back in the game it made the pain in my head go away." 
Even though Bentonville is a tough competition, head coach Tommy Deffebaugh motivated the team by reassuring them that they could pull out a win if they worked together. 
"That has always been a tough place to play at," Deffebaugh said." But we made sure we came out offensively and defensively to showcase our strengths."
Despite being down at half time, the team and Deffebaugh knew that they needed to play as a team and make some free throws.
"We needed to stay consistent but also make a few adjustments," Deffebaugh said." But we really needed to step up and make some free throws."
According to Deffebaugh, both Wood and Conley made a significant impact on the score towards the end of the game. He also says that this game and the rest of the season has been a boost of confidence for the team .
"I think it's a combination of all of our wins," Deffebaugh said." We've taken a lot of positives from our competitors and I think that we grow as a team each game."