Richardson, a sophomore, takes over at the quarterback position
After a hard-fought 41-39 loss to the Rogers Heritage War Eagles on Sept. 30, the Wildcat football coaching staff made the decision to move sophomore Rhett Richardson to the starting quarterback position over senior and 2-year starter Luke Buchanan. The next week the Wildcats pulled off a convincing 49-14 win against Springdale before dropping 2 games to Bentonville West and Fort Smith Southside. Despite the losses, Offensive Coordinator and Quarterback Coach Benji Mahan has noticed an improvement in the offense.
"Our offense as a whole has steadily gained momentum by cutting out costly penalties and taking care of the football," Mahan said. "Each week we have tried to improve and we are seeing the benefit from that improvement.  We are doing the extra things besides just catching balls and making plays in order to make our offense stronger."
In Richardson's three games since becoming the starting quarterback as well as two other games where he entered late in the game, he has thrown for 780 total yards, 3 touchdowns, and only 2 interceptions. He also has a QB Rating of 86.1/100 (An average QB has a rating of 50). Even though Richardson has had individual success statistically, he is focused on being a leader for his teammates.
"I think my passion for the game and drive to get better every week really helps us," Richardson said. "I want to try to keep building on my abilities and my leadership."
Buchanan has also thrived in his running back and wide receiver role, scoring 2 rushing touchdowns against Springdale on 10/7 and hauling in 4 receptions against Bentonville West on 10/14.
"Obviously, it was a little frustrating to be benched," Buchanan said, "but I do feel like I've been able to use my athleticism well in the offense since I moved to the flex position."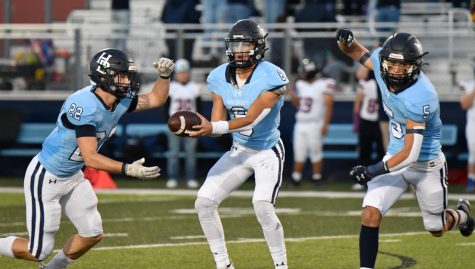 Ultimately, Richardson's decision-making as well as his dedication to the game were what prompted Mahan and his fellow coaches to make the change. 
"Rhett has a great desire to be good.  He studies the game and prepares himself very well," Mahan said. "Rhett has a bright future at Har-Ber High School."