Senior football player connects with father through football
Loss of father motivates McGehee to push himself harder, to love others
As he sat through his sixth period class on Sept. 17, 2021, thinking about his game against the Northside Grizzlies that night, senior Chris McGehee received an unexpected call to check out of school. When he saw his mother's face as he entered the front office, he immediately recognized that something was wrong. This, according to McGehee, is when he first found out his father had been hospitalized and put on a ventilator.
With a game to play in a few hours McGehee made time to visit his father before kickoff. He didn't know at the time, but this would be his last time seeing his father before he passed away later that night. A year later, McGehee, an outside linebacker, plays through the new football season as the anniversary of his father's passing approaches.  
"I played that game that night because that's what he would want me to do," McGehee said. "It was the best game I ever played." 
According to McGehee, he was extra motivated to play this game well because he wanted to play for his father. McGehee had 13 tackles in the 63-56 loss to the Grizzlies.
"The main way I was able to connect with my dad was football," McGehee said. "Sons and their dads have disagreements and whatever, but with football we just talked about it so easily." 
The morning after the game, according to McGehee, his mother woke him up and bore the news that his father had passed overnight. 
"I was devastated. I mean, I cried," McGehee said. 
His teammate and friend, senior Luke Adams, noticed that something was different about the way McGehee performed in this game.
"He came out playing really hard," Adams said. "He got like five tackles back to back and he was emotional the whole game. I had no idea his dad died until after the game and once he told me, I burst out in tears when I saw him."
McGhehee said that his friends' support is what helped him work through his grief. He believes that his friends and his girlfriend Emily Knotts' support were helpful in persevering through the challenging stages of grief. 
"My friends and my girlfriend have been very supportive through this all," McGehee said. "After he died, my girlfriend made me a gift basket with all my favorite stuff." 
Knotts continued to be supportive by listening to him and by letting him pour out his emotions to her. Knotts says that their relationship has only grown much stronger since the passing of his father last year.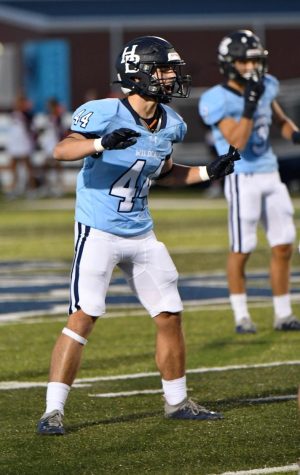 "It has made our relationship stronger since this hard thing has happened in his life," Knotts said, "we have learned that we would never give up on each other, and will always be there to support one another."
According to Knotts, McGehee has had to take on many new responsibilities and has had to adapt to many new changes.  
"Both of his parents aren't here to support him anymore for football games or school achievements, so it is definitely something he had to get used to," Knotts said.
McGehee knew that his father was struggling before his mother admitted him to the hospital, but he didn't understand exactly how severe it was. 
"He was in bad health and struggled with alcohol abuse," McGehee said. "I didn't know that it was coming so fast."  
Because he witnessed how alcohol can affect a person firsthand, his perspective towards the subject has changed. 
"He thinks differently about drinking and getting into things that he can become addicted to," Adams said.
In addition to this new awareness, Adams has also noticed a change in his friend's personality. 
"He's a lot more calm," Adams said. "He seems a little sad sometimes, but he's still happy." 
Knotts also has noticed his growth and recognizes that this event has improved his attitude. 
"It has made him stronger," Knotts said. "He doesn't take for granted any relationship that he makes or any day that goes by. He also puts 150% effort into everything he does like football and school." 
McGehee feels that this is how his father would want him to act moving forward.
"I make sure that my friends and my family, and everyone just knows that I love them and I really care about them. I work harder for everything," McGehee said, "not just football, everything. I just want to make sure that I make him proud in everything I do."
As he navigates his first full football season without his father in the stands, McGehee continues to bring him into every game. 
"After every game," McGehee said, "I started praying in the middle of the field because I feel like I can still connect with my dad through football."