New jerseys, run-through gives football team new look
As the football team sprinted through the brand new inflatable tunnel, certain players carried flags representing each of the branches of the armed forces.  This is just one of many new changes the football program has made to routine and equipment.  These adjustments include a new Carolina blue uniform, a new pregame warmup, and some up-to-date travel equipment.  Senior offensive lineman Jake Fotenopulos has high hopes for the new additions.
"We got brand new jerseys and a cool tunnel to run out in." Fotenopulos said.  "We also changed up our pregame routine to be more contact driven, so we can get the juices flowing before the game."
Up to this point, junior safety Ashton Stewart says his favorite change hasn't been the different pregame routine or new jerseys. He feels a much needed addition was addressed over the offseason.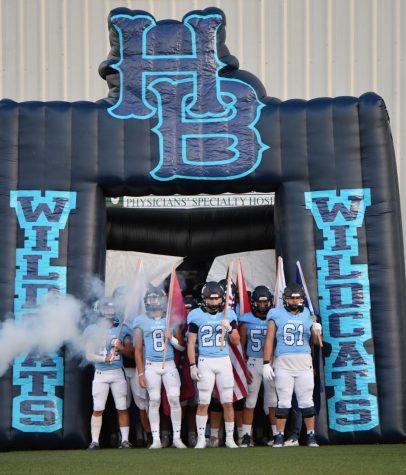 "We got new workout gear and nice new travel bags," Stewart said.  "The old bags that we had were pretty old and really just worn out, and the new clothes are very nice to work out in.  I'm very happy these changes were made."
The football team can thank the booster club for all of the equipment changes.  Although the football team only participates in one fundraiser per year, they seemed to make it count.
"We do one 'text-a-thon' a year to produce money for the program," Fotenopulos said.  "This year, we raised over $50,000, which we used to pay for previous year's expenses and all of the new gear you see out on the field on Fridays."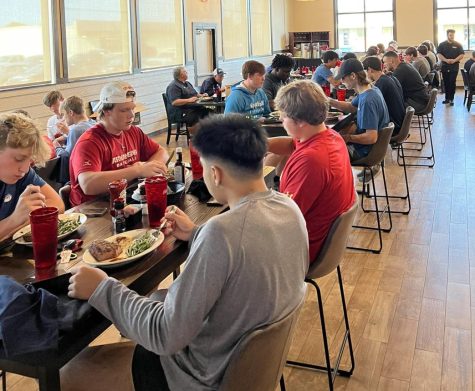 The "text-a-thon" sends out three text messages to potential donors over the course of the fundraiser, at the beginning, middle, and end.  This way, these potential donors won't happen to forget about the fundraiser.  Stewart believes the boosters don't quite get the recognition they deserve for setting up fundraisers and other events.  
"The boosters are sort of the unsung heroes of high school sports," Stewart said.  "They do their work behind the scenes and lose out on appropriate appreciation."
So far, the Wildcats are off to an 0-2 start this season.  However, some newcomers, such as sophomore receiver Luke Altom, believe the equipment and routine adjustments will soon start paying dividends.
"The new Carolina jerseys greatly affect our mindset going into games," Altom said, "and they make me feel very proud to be a Har-Ber Wildcat."