Swim team prepares for conference season
As the swim team prepares for the conference season, it is obvious that their team has grown tremendously in numbers. Although sports have been affected by COVID-19 in different ways, the swim team adapts to their new situation with ease and looks forward to a promising conference season. 
Junior Emily Reaves feels that practices have been mostly the same as in past years. According to Reaves, the biggest difference is the significantly larger size of the team.
"Practices are pretty normal," Reaves said. "It is kind of crazy and hectic just because there's so many more people, but we've gotten a lot closer as a team, even all through COVID." 
Senior Homero Ruiz feels that the team will be more successful with their new teammates. 
"For starters, our team is way bigger this time, but almost 40 swimmers from ninth grade to 12th," Ruiz said, "And we have actually been much more competitive than last year."
Many of their new teammates are underclassmen.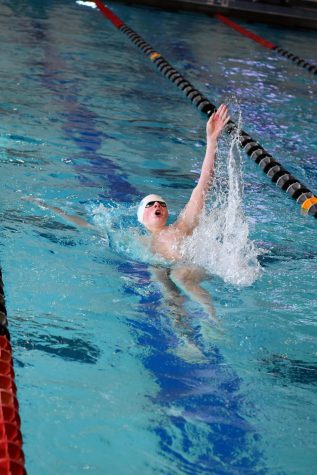 "It started off with about like 12 people and now it's grown to about 30," Reaves said. "There hasn't been a lot of upperclassmen, there still isn't, but there's a lot more underclassmen."
Reaves believes that the team's growth can be owed to word of mouth and their likeable coach. 
According to the swimmers, practices have been somewhat the same, but COVID-19 has changed meets dramatically. 
"You have to keep a mask on," Reaves said. "You can't get out of the pool the same way you can't get in the pool the same way."
To get into the pool, swimmers would usually stand at the diving board for a few events before their turn. Now swimmers must wait to stand by the board until right before their event and have to wear a mask while waiting. 
"Usually you would just stay in your lane and someone would dive over you and you just get out in your lane," Reaves said, "but this year you have to swim to the sides of the pool and get out from there."
Another change to the swim meets is the teams they will be competing with. 
"Conference is just going to be boys and one day and then girls another," Ruiz said.
In past years, all boys and girls would compete on the same day and they would compete against all of the teams from their conference. 
"Usually, like last year, you'd compete against five teams at once, like everybody from conference," Ruiz said. "Because of COVID, it's all dual meets, so you can only go against like Fayetteville or Springdale right now."
Ruiz doesn't think these changes will affect his team very much. 
"Maybe mentally, but there'll be less people, it will help you concentrate more," Ruiz said. "Besides that, I think it's going to be pretty much the same."
Reaves also thinks that because there haven't been any changes to what they do inside the pool, these restrictions will not affect this season's outcome.
"I think outcome is more focused on process practice and like your work ethic more than actually like COVID," Reaves said. 
Ruiz has high hopes for the outcome of this season.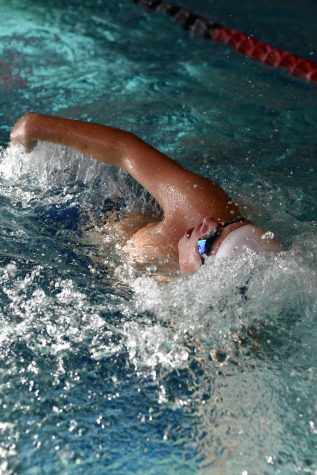 "It all depends on how the other teams are looking because we've only competed against two teams so far," Ruiz said. "But from how we're looking so far, I think we can even have a lot of kids make it to state."
Reaves agrees and thinks the team's increased size will improve the results of the season. 
"For the team overall, I really expect us to do a lot better this year and score a lot more points because we do have a lot more people, and we're doing pretty good so far," Reaves said.
The points Reaves refers to are earned based on each swimmer's ranking for each event.
"So let's say, for example, I got first place in 100 back, I'd get six points, and then it goes down, so second gets five, third gets four, and then you just keep adding  up however many points each member of your team has," Ruiz said, "So the more you have, the better."