Har-Ber graduate begins advocacy journey after facing detention by immigration agency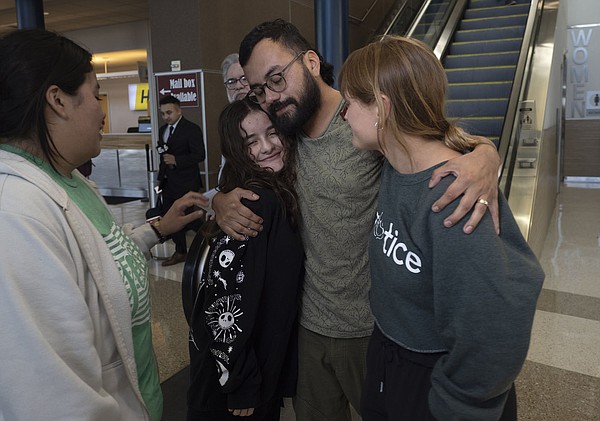 According to TRAC Immigration, as of February 26, 2023, 27,010 people are in ICE (Immigration and Customs Enforcement) detainment. 62.3% of these detainees have no criminal record. On February 14, Springdale resident and Har-Ber High School graduate, Cesar Acosta, and his wife, Megan Acosta, were traveling home from their destination wedding in Mexico when Acosta was pulled aside by Customs and Border Patrol (CBP) at the Houston, Texas Airport. Acosta, a legal resident of the United States, was then detained by ICE on the basis of a misdemeanor that took place after his senior prom in 2013. 
"I told Megan and my friends that it shouldn't take too long because I was told last time all I had to do was bring the documentation and everything," Acosta said. "I already had everything prepared and I felt very comfortable, very confident."
Very quickly, Acosta realized his documentation was not going to be enough, and the situation was more serious than he originally anticipated. 
"I was very hopeful at first," Acosta said, "but within an hour or two I realized that this was not going to be as quick as I thought."
Megan waited for her newly wedded husband at the airport for nine hours, until she eventually had to leave.
"It was after I left when I realized, this is really serious and really scary," Megan said. "I thought he was going to come home because he's a legal resident. I was really shocked that [ICE] could do something like that."
Although Megan left the airport physically, her efforts to support her husband and bring him home had only just begun. 
"I found an attorney, a reputable one," Megan said. "I also went to representatives' offices. I personally went to Womack's office and Boozeman's office to put in complaints and start the process there." 
Additionally, her friends created a GoFundMe to help with the initial cost for attorney bills and legal fees. Her friends also planned a "Bring Cesar Home" event in order to boost support from the community and further raise funds. 
"Then, I just raised awareness," Megan said. "I spread the word throughout the community, walking to different businesses and letting people know what's going on and asking people to reach out on Cesar's behalf." 
As a result of his wife's efforts, Acosta was able to come home much sooner than he imagined. He arrived in Springdale on February 22. 
"I don't know exactly how it happened," Acosta said, "from what the attorney is saying, it was honestly Megan getting the message out there, pressure from the community, and all the coverage that we got, that pressured [ICE] to either expedite the process or just let me go."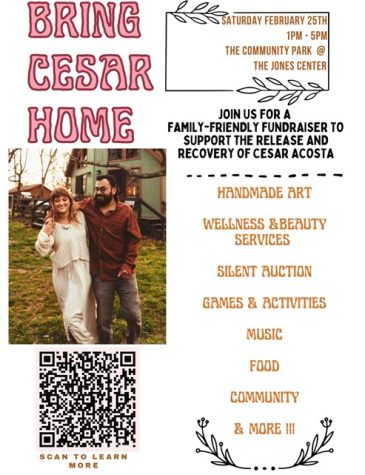 Because Acosta was released earlier than expected, the event that was originally planned to raise support for his release was repurposed as Acosta's first step in his advocacy journey, according to a post on Acosta's Facebook page. 
"This event went from more of trying to bring me home, to now an opportunity to raise awareness to help other people," Acosta said. "I was under the impression that I knew what my rights were. I never thought that something like this could be possible for someone who's a legal permanent resident, but it turns out that they can do what they did, and more."
Acosta hopes that his story can help families and people who are still going through the immigration process to understand that there are rules that can be used against them in the process. Acosta hopes that his advocacy will also make a difference in the way immigrants are treated in the United States. 
"Hopefully, we'll see the closing of all those detention centers because it's very inhumane what they're doing," Acosta said. "Holding people there for extended periods of time and just everything that they're doing is very wrong. So reform would be great. And just treating people like human beings would be a great start."
Through this experience, according to Acosta, he has been able to see his community's full potential.
"Everybody that's in there, even when everything's taken away, wants to help each other," Acosta said. "Everybody wants to go home and nobody really knows what's going on, but what I learned is that with community, my wife, Megan, and everybody sticking together we're a lot stronger than whenever you're all by yourself." 
Megan also recognizes the weight that the community pulled in the process of bringing Acosta home and wants to return the favor. 
"We want to help other people that don't have the advocacy that Cesar did or the resources to have a really good, quality attorney," Megan said. "We really want to give back to the community and help bring other people home as well."
Because Acosta was going through the immigration process while he was a student at Har-Ber High School, he feels it is important for students to understand the details of the process, so that they don't fall victim to the same situation. 
"We all know that it takes a really long time, but be careful with what you're doing on the weekends, and just know that any little thing – it doesn't even have to be serious – can affect you in the long run," Acosta said. "Something might not even be that big of a deal with your school or your local court system, but in the eyes of immigration, which is a completely different entity, they can take everything away from you."