Girls basketball player files civil rights complaint against head coach
Parents, players rally behind basketball coach
Senior basketball player Kania Starks filed a civil rights complaint to the Office of Civil Rights (OCR) December 15, 2020 alleging racial discrimination and discrimination based upon a disability against head women's basketball coach, Kimberly Jenkins. The purpose of the OCR is to review the complaints made to determine if they should be investigated.
"There has not been a lawsuit filed against the district," general counsel Kendra Clay said. "A lawsuit must be filed in court. We believe there has been a complaint filed with the Office of Civil Rights, but have not received official notice of a filing."
Neither Starks nor Jenkins chose to comment on the issue directly. However, quotes below from both parties have been cited from released statements, FaceBook posts, and news sources.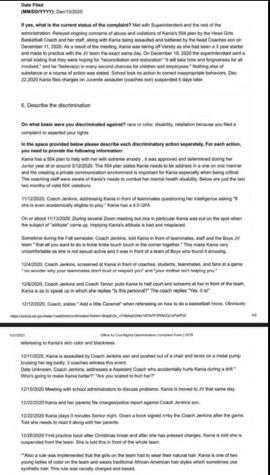 According to a copy of the complaint posted on FaceBook by Starks' mom, Chrissie Starks, Starks was suspended from the team following Christmas break.
"First practice back from Christmas break on and after she has pressed charges. Kania is told she is suspended from the team. She is told this in front of the whole team," the complaint said. 
According to junior Caylan Koons, the team was informed of Starks' suspension on Dec. 27 during a practice when Starks was not present. 
"After much thought and consideration, as well as prayer, we have decided to ask Kania Starks to take some time away from our Har-Ber Lady Wildcat ONETEAM effective immediately," Jenkins said in the letter, "Any attitude or actions that are detrimental to our ONETEAM will not be tolerated- and that goes for everyone on our ONETEAM."
According to KNWA reporter Andrew Epperson on January 22, the letter was sent as a parent letter.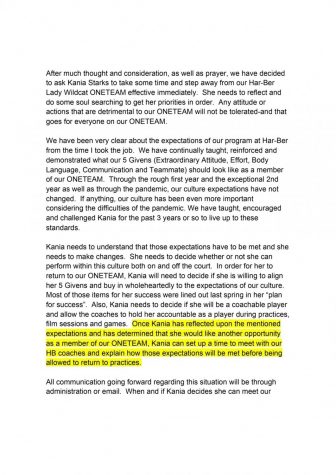 "In a note sent to team parents, the coaching staff discussed the suspension, indicating it came down to the Starks' attitude," Epperson said.
According to team parents, Rhonda McCrackin and Jody Koons, their first time seeing the letter was on KNWA. This was mentioned in a collective statement constructed Jan. 28 by a Facebook account created by team parents called  "Backers of Lady Wildcat Coach." 
"As a group of parents, we can attest that at no time was a letter shared, sent, or delivered from Coach Jenkins regarding any other player than our own," the Facebook page Backers of Lady Wildcats Coach said. "Communication regarding discipline, team expectations, and other topics pertaining to team membership have only been delivered to an individual player's parent(s), the individual player, and copied to school administration when applicable."
Twenty-eight parents signed this statement. According to the statement, the goal of the account is to show their support for Jenkins.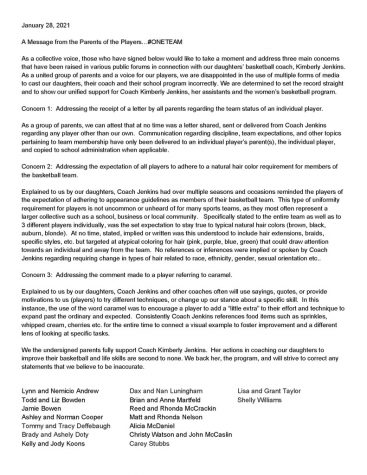 "As a united group of parents and a voice for our players, we are disappointed in the use of multiple forms of media to cast our daughters, their coach and their school program incorrectly. We are determined to set the record straight and to show our unified support for Coach Kimberly Jenkins, her assistants and the women's basketball program," the Backers of Lady Wildcat Coach said.
According to Jenkins, Starks' attitude did not meet the expectations she has set for the  team. Jenkins claims the rules of the team have been clear and are expressed through the "ONETEAM" idea. 
"We have continually taught, reinforced, and demonstrated what our 5 Givens (Extraordinary Attitude, Effort, Body Language, Communication and Teammate) should look like as a member of our ONETEAM. Kania needs to understand that those expectations have to be met and she needs to make the changes," Jenkins said in the letter first published by KNWA. "She needs to decide whether or not she can perform within this culture both on and off the court."
Starks' suspension  is not permanent. Jenkins gave Starks' the opportunity to resume her spot on the team if certain conditions are met in her suspension letter. 
"Once Kania has reflected upon the mentioned expectations and has determined that she would like another opportunity as a member of our ONETEAM, Kania can set up a time to meet with our HB coaches and explain how those expectations will be met before being allowed to return to practices," Jenkins said in the letter published by KNWA.
Starks has been unresponsive to this option. 
"I know she's been talking to Nia about [being a better teammate] since at least junior year and it's senior year now and Kania hasn't changed her ways yet. Coach Jenkins just said if you don't want to fix it, then you're suspended," senior Dalye Hamilton said. "Whenever Nia was suspended, Coach Jenkins came to all of us and she said that she had the opportunity to come back and it's completely up to Nia. Nia never came back." 
According to the complaint to the OCR, Jenkins is accused of racial discrimination against Starks, specifically targeting her hair and skin color on Dec. 12, 2020. 
"Jenkins told Starks to, 'add a little caramel,' when describing a basketball move. Starks thinks it was a racially-motivated comment referencing her skin color," the complaint said. 
However, the comment was interpreted differently by Starks' teammates. 
"So Coach Jenkins said that she wanted us to add some caramel to our passes and all she was saying was add like flavoring to it or like it would have been the same as saying, add spice or add like strawberry to you know she was referring to ice cream flavoring," Hamilton said.
According to junior Trinity Brown, Jenkins uses the term "caramel" frequently when describing switching up plays and claims she has never felt discriminated against.
"I never felt like it was directed at me because I'm black or mixture or anything," Brown said. 
This issue was also addressed in the statement by the "Backers of Lady Wildcat Coach."
"Explained to us by our daughters, Coach Jenkins and other coaches often will use sayings, quotes, or provide motivations to us (players) to try different techniques, or change up our stance about a specific skill. In this instance, the use of the word caramel was to encourage a player to add a 'little extra' to their effort and technique to expand past the ordinary and expected," the statement from The Backers of Lady Wildcat Coach said. "Consistently Coach Jenkins references food items such as sprinkles, whipped cream, cherries etc. for the entire time to connect a visual example to foster improvement and a different lens of looking at specific tasks." 
In addition, Starks felt she was being discriminated against because of her distinct hair in a policy enacted by Jenkins. The date of incident is not included in the complaint.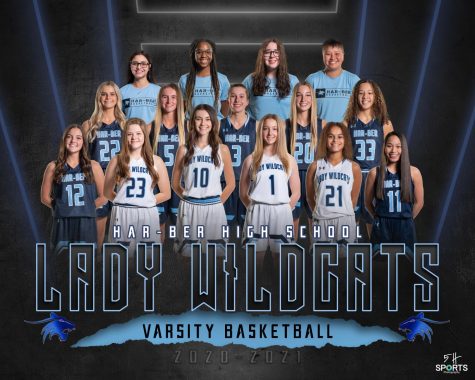 "Also a rule was implemented that the girls on the team had to wear their natural hair. Kania is one of two young ladies of color on the team and wears traditional African-American hair styles which sometimes use synthetic hair. This rule was racially charged and based," a portion of the complaint posted on Mrs. Stark's Facebook page said.
However, in recent pictures of both the junior varsity team and the varsity team, Kania is among at least eight POC, not two. Starks feels this policy is irrelevant to the game and rather another example of racial discrimination.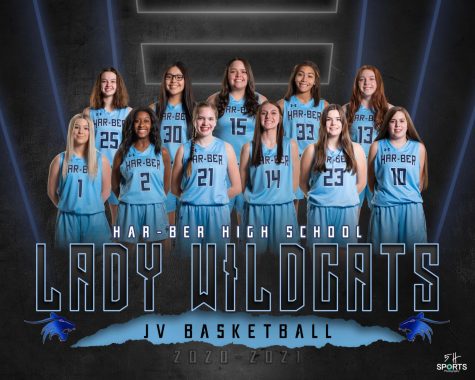 "The natural hair policy, I felt like that had nothing to do with basketball, I don't think your hair has anything to do with anything, honestly," Starks said in an interview with KNWA.
Special education teacher, Shawna Todd commented about this issue in a recent Facebook post.  
"Natural hair policy because another player showed up to practice with bright pink hair. Not because this young woman is a POC," Todd said. "I'm not for one side or the other because I don't know all the facts, but I do know that one." 
According to Brown, the policy was directed more towards unnaturally colored hair rather than style of hair. 
"She said natural hair colors in practice," Brown said. "She didn't even say natural hair. She said natural hair colors and that wasn't directed at Kania. It was directed at a white student who had dyed her hair bright pink."
According to sophomore Pacious McDaniel, the policy is reasonable. 
"She just won't let us have colorful hair. That's normal,"  McDaniel said.
Jenkins complimented Starks' faux locs hair style, according to senior manager Makenzie Undernehr.
"Coach likes her braids. Everybody does. She literally went up to her and said to her, 'It looks really good,'" Undernehr said. 
The Stark family also accused Jenkins of neglecting Starks' 504 plan. According to an article by Education Law Into Practice, a 504 plan requires school boards to provide related, or supportive, services to students with disabilities when children need such assistance to benefit from their special education programs. A 504 plan provides accommodations for a student with mental or physical impairments. The accommodations can include, but are not limited to adjustments to the classroom settings, extra time on assignments, and modified assignments. 
"School board officials certainly have an obligation to provide reasonable accommodations under Section 504 and the ADA (Americans with Disabilities Act)," the article from Education Law Into Practice said. "Although it is not as common, participation in extracurricular activities may be written into the IEP's of children under the IDEA (Individuals with Disabilities Education Act)."  
An IEP(Individualized Educational Plan) plan is provided for students that qualify for special educational programs. While in a 504 plan a student does not qualify for a special educational program, adjustments in the classroom can still be provided. . 
"A 504 plan could apply to athletics in certain situations," assistant principal Dr. Curtis Gladden said. 
Although a 504 plan typically involves modifications in the classroom, Starks' wants these modifications implemented to the basketball court. 
"Kania has a 504 plan to help with her with extreme anxiety, it was approved and determined during her junior year at or around 3/12/2020. The 504 plan states Kania needs to be addressed in a one-on-one manner and then creating a private communication environment is important for Kania especially when being critical. The coaching staff were aware of Kania's need to combat her mental health disability," the complaint said. 
One example the complaint included occurred in the middle of a game. 
"Coach Jenkins screamed at Kania in front of coaches, students, teammates, and fans at a game 'no wonder you teammates don't trust or respect you' and 'and your mother isn't helping you,'" the Facebook post said.
In another occurrence the complaint claimed Jenkins publicly displayed her doubt in Starks' academic abilities. 
"Coach Jenkins addressing Kania in front of teammates questioning her intelligence asking 'if she is even academically eligible to play,' Kania has a 4.0 GPA," the complaint said. 
However, according to junior Maddux McCrackin, Jenkins has never mentioned a player's academics in front of the team. Senior Kennedy McClure claims Jenkins' comment was rather referring to court awareness.
"She was told that her court IQ need to be better, meaning seeing the open player on the floor rather than her shooting it with three people on her," McClure said.
According to sophomore Galatia Andrews, Jenkins treats everyone the same regardless of size, color, or shape. Jenkins makes this an effort in her coaching career.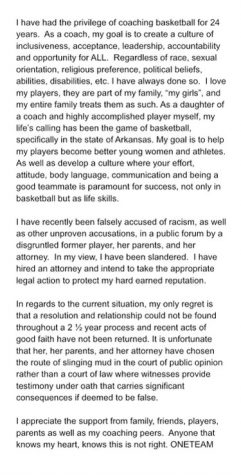 "As a coach, my goal is to create a culture of inclusiveness, acceptance, leadership, accountability and opportunity for ALL. Regardless of race, sexual, orientation, religious preference, political beliefs, ability, disabilities, etc. I have always done so. I love my players, they are part of my family, 'my girls.''Jenkins said in a statement released to the public on Jan. 27.
Starks has also made accusations of assault against Jenkins' son who is around the team frequently. 
The complaint claims Jenkins' son injured Starks.
"Kania is assaulted by Coach Jenkins' son and pushed out of a chair and lands on a metal pump bruising her leg badly. 3 coaches witnessed this event," the complaint said.
The team questioned the intentionality of Jenkins' son's actions. 
"That's not of [Jenkins' son] to do and he wouldn't do that on purpose," senior Kennedy McClure said.
McDaniel says the team thinks of Jenkins' son like a "big annoying brother." 
A Freedom of Information request of the police report involving Jenkins' son and Starks was submitted twice to the Springdale Police Department, who failed to respond. A "note" on the request indicated that the police department would not release reports involving a juvenile. SPD Captain Ron Hritz said the department could not comment on the status of the case. 
According to Jenkins' son, his parents never received information about the case. The incident, which occurred on campus, was mentioned in the OCR complaint that was posted on social media by Mrs. Starks.
"There was a camera that saw it and so [officers] reviewed the footage and determined that it was, at worst, horseplay," Jenkins' son said.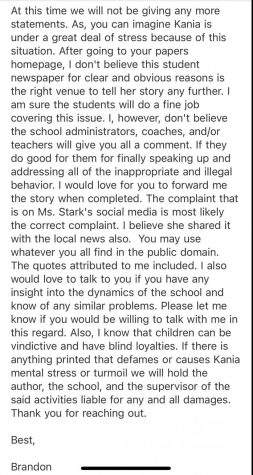 When The Herald reached out for a comment, Starks' lawyer, Brandon Pickett said, "At this time, we will not be giving any more statements. As you can imagine, Kania is under a great deal of stress because of this situation."
Jenkins has hired a lawyer to represent her and has released a statement in defense of the accusations made in the complaint. 
"I have been falsely accused of racism as well as other unproven accusations, in a public forum by a disgruntled former player, her parents, and her attorney. In my view, I have been slandered. I have hired an attorney and intend to protect my hard earned reputation,"  Jenkins said. 
Springdale Public Schools Superintendent Dr. Jared Cleveland aims for a proper conclusion for both parties. 
"I believe Har-Ber is an outstanding school filled with compassionate and professional educators that love and support their tremendous students in the HBHS family," Dr. Cleveland said. "I am confident a path toward reconciliation exists for all stakeholders and remain hopeful for an appropriate conclusion in a timely manner."
Coach Jenkins' son is a member of The Herald staff. However, he did not participate in the reporting of this story.