Cheerleading team has high hopes for this season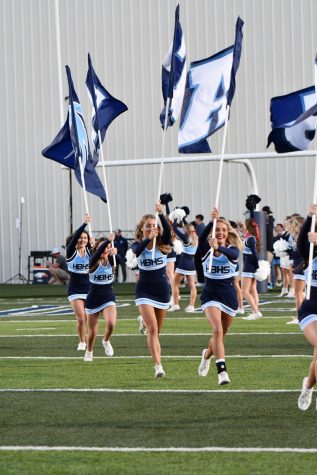 The cheer team has high goals for this season. The team has been hoping for a trip to nationals, something they've been preparing for since the summer. Early and after school practices have influenced their confidence going into their first competition this weekend in Hot Springs.
"Our team is the most determined it has ever been," said sophomore base Isabella Hamby. "We are so close to success."
Hamby believes her and her teammates are mentally and physically prepared for the upcoming season. With practices at 6:45 AM and occasional practices after school, they have worked for months to improve their stunts and hit them consistently. Through all this work, they have also learned how to stay determined mentally. Hamby believes it doesn't matter how long someone works on a skill because nothing is going to work without a positive mentality. 
"You have to train yourself to do all the little things and always be ready to have a mental battle with yourself." Hamby said. 
According to Hamby, a short routine where she puts in 100% effort is exhausting, especially if she isn't mentally prepared. 
The team also has also created a strong connection.
"I think our team's chemistry is one of our greatest strengths." sophomore Esme Macias said. 
According to senior captain Chloe Weber, this is the closest team she has been on in her four years in the program. With their closeness, they have found a balance between fun and seriousness to get the job done while still maintaining a love for the sport. 
"We are able to give each other corrections comfortably and not take it in a personal way." Weber said. 
Although the team thinks their greatest strength is their encouragement of each other and ability to support everyone on the mat, they also have weaknesses.
"One of our team's weaknesses is letting past performances or mistakes get in the way of upcoming performances." Weber said. 
Weber believes that thinking about the past has a very negative effect on the team and their performance. Staying mentally tough during a short performance and not thinking about past errors is difficult for the team, but Hamby believes that staying in the present will help them.
"It is hard to stay enthusiastic through a whole performance and not show it on your face when something bad happens." Weber said. 
According to both Weber and Hamby, the ability to stay consistent during time spent on the mat is one of the hardest things about cheerleading. Cheerleaders voices have to stay loud and their body language has to stay positive. Good leaders on the mat, like junior Emma Pierce, help out with this difficult skill. 
"I really look up to Emma Pierce," Hamby said. "She has the best attitude and always helps the team out for the best."
 Weber is also a key leader. She was voted as one of their team captains for her capability to keep the team ready, focused, and accountable
"It is my role as captain to stay positive even during hard practices, and make sure everyone is focused and preparing correctly." Weber said. 
According to Weber, the senior cheerleaders are sad to leave this amazing team but are hopeful to leave their last season with a state title and a trip to nationals. With all the work and effort put in the last few weeks, they are confident going into their 2022 season. 
"This is my last year competing, and I want to end it with a ring on my finger." Weber said.