Golf team wins third straight state title
On Wednesday, Sept. 26, the women's golf team edged out a team win over Bentonville by five strokes in the state tournament. This was the third year in a row that the Wildcats won the state championship. Individually, senior Lauren Milligan and junior Charlie Whorton finished third and seventh respectively. In Coach Timothy Rippy's first season, the Wildcats were able to stay at the top.
"My goals for my first year were really simple," said Rippy. "I wanted to create a great culture for our team that the players want to be a part of. I also wanted to help the players on our team improve in any way that was possible."
The Wildcats certainly worked hard to achieve their third state championship in a row, and it was rewarding for them to see all of their hard work pay off according to Senior Lauren Moore. 
"We had practice 5 days a week every week starting in July," Moore said. "We met at Springdale Country Club and either worked on the range or our short game. It was really cool to see all of the hard work pay off."
Rippy knew the girls' potential from the start by just observing them practice in the first few weeks of July.
"I could see that they were very motivated," Rippy said. "I knew that if I helped them reach their potential, we could win it all considering they had already done it the past two years and had been there before."
Senior Lauren Milligan has committed to play college golf at Rogers State in Tulsa, Oklahoma and will remember what the Har-Ber Women's Golf Team has provided her.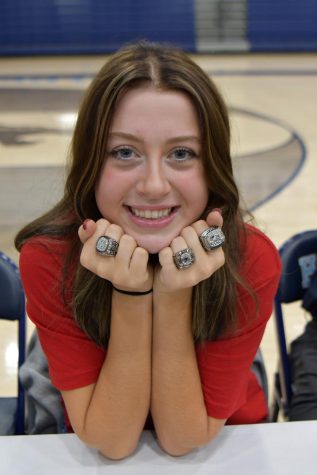 "Obviously the state championship win was awesome," Milligan said, "but I will most of all remember the relationships that playing golf provided for me, and I will be forever grateful for the friendships I have made through Har-Ber golf."