Basketball team rebounds after COVID-19 sweep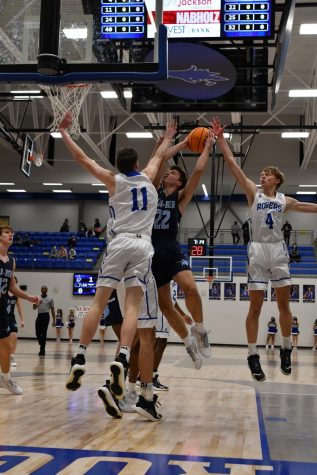 With only one returning player, the boys basketball team is working to prove doubters wrong this season after COVID-19 related game cancellations.  According to senior Aaron Oliger, the team was ranked lower than anticipated. 
"One of our goals this season was just to get better every day and we've done that so far, another goal this year was to prove everyone wrong. They picked us 5th pre season and we've had a chip on our shoulder ever since," Oliger said. 
The team hopes to improve that ranking.
"We wanted to finish top 2 in conference and we are still working to finish that," senior Noah Livingston said. 
The team has a conference record of 8-4. According to head coach Tommy Deffebaugh, they hope to end 10-4 along with a series of titles.   
"Our goals are always to win every game, win the conference, win every home game and win state. Our team is still competing for all those goals every day," Deffebaugh said. 
After enduring a COVID-19 sweep, the team has dealt with many injuries, according to Oliger. 
"Our first setback was dealing with COVID to start the season. We had every player on the team test positive and even my assistant coach tested positive," Deffebaugh said, "Once that happened we had to cancel our first game against Harrison and everyone went into quarantine. That was our first setback. Our next setback just happened two weeks ago. Our starting point guard Aaron Oliger went down with a really bad sprained ankle. It's so bad that he has not returned since it happened." 
According to Oliger, he isn't the only one overcoming an injury.
"Mack Wright broke his wrist and missed a lot of games where he could have helped, Garrett Nerenberg is dealing with a lot of knee pain but he's toughing it out, I tore the ligaments in my ankle from an ankle sprain, but I should be back very soon," Oliger said. 
Not only have injuries been a conflict, but inexperience has become a factor on the team, according to Deffebaugh. 
"Our team was a brand new team from last year. We returned only Noah Livingston who played any kind of minutes on last year's team," Deffebaugh said. "Our team last year was 22-5 and conference champs." 
However, according to Deffebaugh, the team is working hard to fulfill their goal of winning a conference championship.
"This year's team had no theme, just an inexperienced team is who we are," Deffebaugh said, "But my guys were willing to put the work in to prove we were going to be a good team."