Advice seniors wish to tell past self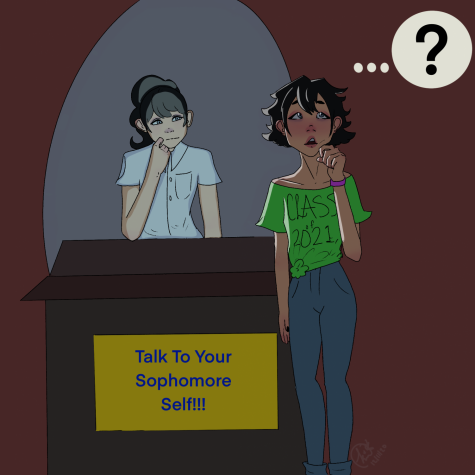 As the new year approaches, something that most people do is reflect on the past and focus on their future. For seniors, the new year means one semester left of high school. One semester left until the end of their first big season of life. Something that we wish we could do is go back and give our past self advice, so here is some advice to the sophomores and juniors from your seniors: 
"Enjoy every little moment because time really does pass by fast," senior said. 
"High school is hard," senior said. 
"I wish I could tell my sophomore self that the ACT matters more than you think and that getting a high score saves you a whole lot of money," senior said. 
Being scared to be yourself is one of the hardest things about high school. It's important to break-through that fear.
"I wish I could tell my sophomore self that high school isn't as scary as it seems, and to be yourself. If you are yourself then the people you become friends with will like you for your true self, not someone else," senior said. 
Other senior wishes they could tell their past self to try harder.
"Embrace the school spirit," senior said. 
"Nothing ever lasts forever, enjoy the fun times while they last, but always look forward to happiness in the future," senior said. "Never give up hope."
For a lot of students, grades push them down every day, this senior believes it's important to have fun and try your best because it's not the end of the world.
"I wish that I could tell my sophomore self to let go a little," senior said. "Don't be so uptight about grades; it's one grade that was bad, move on, and don't get hung up on it. Go have fun with your friends. Don't get caught up on someone that hurt you because there's not enough time to waste worrying. Enjoy these three years. If you close your eyes, they're gone."
Childhood is fleeting, especially in your final years of school. The seniors can attest to the fact that there is never a minute wasted just being a kid.
"To enjoy my last years of being a kid and not having many responsibilities."
"Work hard, it's worth it."
"It is just high school, it is not that serious. live your life and focus on you!"
As the end of senior year approaches, many already have regrets about things they didn't do. Sophomores and juniors can learn from their regrets and hopefully take the advice to do the things the seniors didn't do.
"Doing more to get ready for college."
Many seniors would encourage their past self to attend Homecoming. 
"I regret not savoring moments more during my junior year.  Attend everything."
"Taking less AP classes. I've taken six AP classes and I think I put too much pressure on myself to succeed."
There is always a huge misconception when it comes to what school offers. Clubs, dances, and extracurricular the school put on can be just as exciting as anything.
"Joining more clubs, making more friends," senior said. 
"Probably continuing with band, I quit sophomore year and I miss it every day," senior said. 
Remember to take this advice from the seniors and apply it and appreciate the opportunities you still have to make memories before your own senior year.
"I regret not enjoying it," senior said. "Throughout the years, everyone always complains about school and it ruins it. Enjoy it and make the most of it, because it really does go by fast."