Healthy Har-Ber becomes new hot spot for students
Healthy Har-Ber has flooded students' Instagram feeds and conversations for the past months since the new nutrition business opened this September. The drinks and shakes offered aren't the only things attracting students, but the high energy staff make each student feel welcomed and spend time getting to know each customer personally. 
According to sophomore Kenda Burkett, the staff at Healthy Har-Ber made her feel at home from her first visit. They took time to get to know her and her sister individually. 
"That's when we saw that that was going to be our new favorite place to go," Burkett said.
Burkett and her sister found Healthy Har-Ber through social media as many students post photos of themselves and their drinks in the store.
"I'd known that it's like Nutrition Blast further down on Sunset and closer to home so I wanted to try it," Burkett said.
According to Burkett, Healthy Har-Ber is much more convenient for her and many other Har-Ber students. 
"It's in a great place of town, it's not far out of the way and it's right in the center of Tontitown, which is good for Tontitown," Burkett said. "I think we needed something like that."
Burkett is a frequent visitor at Healthy Har-Ber. On her first visit, she ordered the Lemon Berry Pom which became one of her favorites. 
"I like the Vampire's Blood drink that's my absolute favorite at the moment," Burkett said. "The Lemon Berry Pom and Watermelon ones are really good as well. For shakes, I like the Oreo Mint and the Thin Mint. I also like the Lemon Blueberry shake."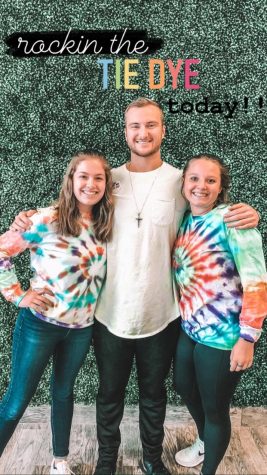 Many students find it hard to go a day without seeing social media posts and stories about Healthy Har-Ber. Burkett likes to share her drinks on her SnapChat story. 
"There was one week where I posted something about Healthy Har-Ber every day because I went every day that week," Burkett said.
Burkett says she visits so often because Healthy Har-Ber is her happy place. 
"They have all positive attitudes 24/7 they have really nice music plays in the background," Burkett said. "You just have a good time and you have no option but to smile and be happy there." 
According to Burkett, the staff and owner are extremely kind and welcoming. Their energy and enthusiasm improve Burkett's mood immediately. Burkett and her sister have particularly befriended the owner, Hobbes Knowlton. 
"He's just like a family member now like he's always there for you no matter what it is he's there to help with whatever he can," Burkett said. "I've come in and they've helped me with schoolwork before."
Knowlton and his girlfriend recently moved to Northwest Arkansas and saw a need for this type of establishment on the west side of Springdale. Knowlton fell in love with NWA's community and local businesses. Many students wonder why he chose to  name his business after Har-Ber.
"I love the Har-Ber area," Knowlton said. "I thought that it was a good fit and pretty catchy, so we went with it."
According to Knowlton, moving to a new area and trying to start a small business can be difficult. Social media has become a majorly helpful tool in growing his business.
"When someone comes in, gets a shake and a tea, and they post a picture about it, I mean that's word of mouth right there," Knowlton said, "Social media has been a really big deal for success."
Knowlton says Healthy Har-Ber has received a lot of business from Har-Ber students. 
"Y'all have been very supportive and we're excited for the rest of this year and especially next year," Knowlton said. "I think next year will be a lot of fun."
Knowlton reveals that he has a lot planned for 2021 and is in contact with some coaches and organizations. 
"I look forward to working with Har-Ber High School," Knowlton said. "I'm wanting to partner with the different sports teams and different organizations that y'all have and try to raise some money for whatever y'all may need."
Knowlton goes on to explain that for 2021 they are working on new tea flavors and will be working with the community more. He plans on hosting trivia or bingo nights and different fundraising events. 
"I want to be able to have a fundraising event where we go in half, and sponsor it, and do a kickball tournament or a three on three basketball tournament, or just anything fun like that, something for the kids to do. " Knowlton said, "So that's  just a few things we've got planned, but I can't be giving you all of our secrets.
According to Knowlton, the most popular shake flavors among high school students are Strawberry Cheesecake and Cinnamon Toast Crunch and the most popular tea flavor is the pink drink. 
"Everyone loves the pink drink," Knowlton said. "They're all about the pink drink. It's got a kind of a sour candy taste to it. It also has our collagen in it which is good for hair, skin, and nails, and then it's got a protein snack as well as some energy." 
Knowlton has learned a lot about starting and owning a small business as well as the benefits of cellular nutrition. Knowlton emphasizes the importance of customer service. 
"I've also learned how important customer service is and taking care of people," Knowlton said. "You don't realize until you own a small business how much it means to people just making someone smile or laugh. It goes a long way rather than just handing them a shake and sending them on their way."
Knowlton also has learned a tremendous amount about cellular nutrition.  He emphasizes the importance of cellular nutrition in high school age students and athletes. 
"Herbalife nutrition provides cellular nutrition, so it's focused on your macro and micronutrients stuff that your body needs and that is essential for it, but a lot of people neglect all of the vitamins and minerals that we put into our bodies," Knowlton said. "It's important to get all those in and when you can do them in a tasty protein shake. It's just even easier, you know."
Healthy Har-Ber's fun atmosphere and kind workers have made it a happy place for Burkett and many other students.
"If you haven't been there, definitely go check it out because it is the best like it is so good," Burkett said. "Even if you don't find something you like the first time, they're so open to help you find something that is just for you."