Student brings light to the importance of fitness and nutrition by promoting Herbalife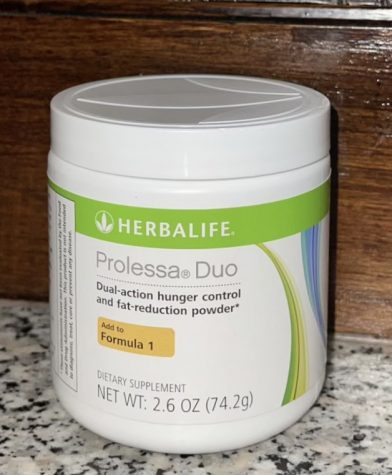 On an autumn September day, senior Carolina Restrepo was greeted with welcoming smiles as she entered Healthy Har-Ber Nutrition for the first time to order the Pixie Dust Tea and the Banana Foster Shake. Since there is a vibrant environment at Healthy Har-Ber, it is a new hit with students. While some students prefer to stop by and purchase their favorite drink, Restrepo wanted to be more than a customer to her favorite Herbalife Nutrition shop. She became a distributor for Herbalife and has then been selling the products herself.
"I knew I wanted to become a distributor because I saw results when I started using these products consistently," Restrepo said. "They changed my life."
Herbalife Nutrition was founded in 1980 with the goal to improve eating habits with nutritious products such as teas, shakes, and other snacks. Since then, more than 90,000 clubs have opened worldwide, according to Herbalife.
Initially, Restrepo was introduced to Herbalife Nutrition by Adrian Edge, a health and wellness coach and partner at Healthy Har-Ber. 
"The goal of Healthy Har-Ber, Herbalife Nutrition, and my personal goals are to make as big an impact as possible whether that be to help people find confidence in their bodies or to just be a friend when needed," Edge said. "We are here to serve the community."
Herbalife has a point system that allows members to move up in status as they sell more products. 
"I recently became a senior consultant, so I basically moved up a level," Restrepo said. "You start off as a distributor and senior consultant is the next step up."
After Restrepo's successful 30-pound weight loss by a combination of Herbalife, exercise, and a healthy diet, she wanted to help others do the same.
"By becoming a distributor, I am now able to help people reach their health and fitness goals," Restrepo said. "That's what keeps me motivated. I want to see people reach their goals. I want to see people gain confidence."
Additionally, Restrepo's weight loss journey required dedication and time.
"I have had to give up unhealthy food and right now I am in a 21-day challenge," Restrepo said. "I have been using Formula 1 and the protein drink mix. When I combine those two, it makes for a great meal replacement shake."
Senior Allison Taul has also had a positive experience with Herbalife Nutrition.
"I have lost a little bit of weight and have more energy," Taul said. 
Restrepo's clientele includes peers, such as Senior Ashley Osario.
"I think that Carolina is reaching above and beyond her limits, which is amazing to see especially for someone who has such a compassionate heart," Osario said. "She's a real good person to buy from because not only is she considerate and encouraging, but she also doesn't let you on your own. She wants to continue to see your progress."
As the new year begins, getting in shape is the most common new year resolution.
"I want [people] to feel good in their bodies," Restrepo said. "Be consistent. The results won't show unless you put in the work."