Senior battles cancer resiliently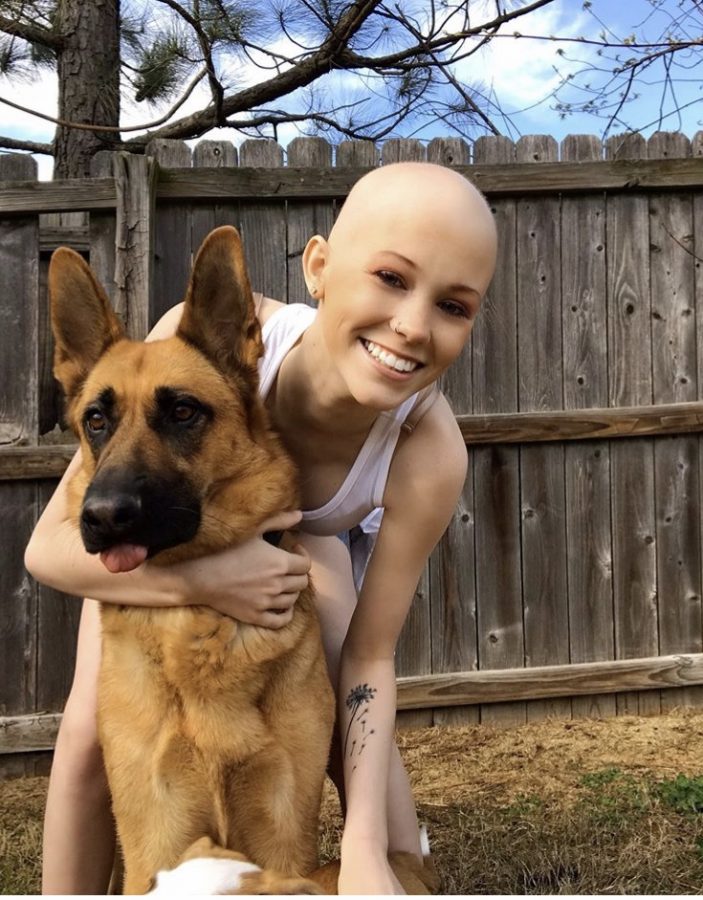 On an ordinary day in January, senior Taylor Priest walked into the doctor to get tested for the flu and came out with jarring news. She had stage three/four Hodgkin's lymphoma, a type of cancer that is a part of the immune system.
"She had a cough and that was the only symptom," Taylor's mom Sarah Hudson said, recanting the story of her daughter's diagnosis. "I took her to the doctor. They gave her a flu test and when it came back negative they prescribed cough medicine. Completely expected. But the cough got worse, so the next week I took her back to the doctor, and they did a chest x-ray and found a mass in her chest. And that's how we found out." 
"Panic" is the word Hudson used to describe her initial reaction to the diagnosis, however Taylor's response was different.
"I just kind of laughed and was like 'of course I do.' My mom started crying, and I was like 'dude, it was gonna happen eventually," Priest said. "I'm the first one in my blood family to have [cancer]. I just have really bad luck, so it wasn't very surprising."
News of Priest's diagnosis has brought her a tremendous amount of support.
"People have come out of the woodwork. Friends of course have been very supportive, but people we haven't spoken to in a long time. Everybody wants to help, they want to do something productive,"Hudson said. "We've had friends and family that have brought us food and gift packs for Taylor to keep-hobbies and stuff so she won't be bored while we're stuck at home." 
Priest's teachers have also walked alongside her in support.
"Her parents had a little get together for her when she first started all this and multiple teachers went and visited her during the cook out that they had at her dad's house. We all just continue to try to show support and love to her," Har-Ber agriculture teacher Seth Jones said.
According to Priest, she has received encouragement from not only friends and family, but even strangers.
"There's actually a girl in Bentonville that's my age with the exact same diagnosis as me. Her name is Sydney and she's pretty freak'in cool. I've had people reach out to me and DM me on Instagram like 'hey I went through the same thing when I was your age.'"
A Facebook page called Taylor's Tribe was created by her aunt to keep her 600+ supporters up-to-date on Priest's appointments and progress. Priest is currently working her way through twelve rounds of chemo. The last one is scheduled in late June. 
"[Treatment] is going great. From the beginning, as soon as they got the diagnosis and started the chemo it was day and night. Within a week we could already see a huge improvement. She's responding very well to treatment," Hudson said. "[Taylor has] been so upbeat about the whole thing. She's been nothing but bring it. Let's do this. The doctors say that's why she's healing so quickly is because she has the best attitude."
Hudson is not the only one who has taken note of Priest's optimistic spirit.
"Taylor is just so upbeat as a person and she's been very upbeat through this. She's still practicing with us on the horse team and what else she can," Jones said. "She is a very special individual. She is always, always a team leader. She pushes people around her to get better, but I have also seen her be a very good friend and supporter of other kids."
According to Priest, she feels like her normal self.
"I've been fine. I've been really weird about it because it doesn't really affect me that much. It makes my doctors mad that I still have so much energy after they do everything. I'm just the same Taylor. I just don't have hair now. It weirds everybody out."
Hudson said that her daughter has been "remarkably calm and upbeat."
"Taylor is the strongest person that I know. She has made it very easy for me to be strong. She's amazing," Hudson said.
Priest wants people to know that she is doing fine.
"They don't know that I'm fine until I show them I'm fine. That's why I make so many cancer jokes and why I'm so energetic all the time. It's not for me it's for them," Priest said.
There is still much out of anyone's control when it comes to battling cancer.
"Being helpless, not being able to fix her," Hudson said is the most difficult part for her. "It's just a pause. That's what I've told [Taylor]. It's just a pause." 
There have been good things that have come out of the circumstances.
"I think that friendships have strengthened. All relationships, not just friendships. Taylor and I have become very close. We've always been close, but spending 24/7 together you either learn to love each other or hate each other. We've done a pretty good job of loving each other," Hudson said. 
Priest is not backing down in the fight against cancer.
"Not at all," Priest said when asked if she was scared. "There's not a doubt in my mind that I'm gonna beat it."