Wildcats complete comeback in OT against Fayetteville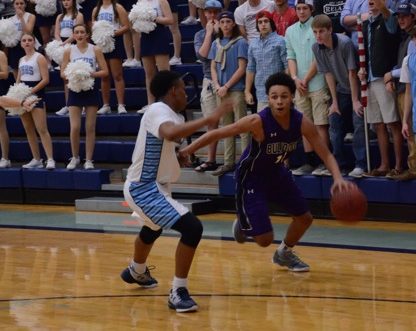 Hang on for a minute...we're trying to find some more stories you might like.
With 12 seconds left in overtime, Fayetteville inbounded the ball under the Har-Ber basket. The second ticked off the clock. The first effort was no good, followed by multiple chances by the Bulldogs, as they looked to give Har-Ber its first conference loss of the season.
The buzzer sounded. Relief and celebration flooded the court, as the Wildcats staved off the Bulldogs 60-59.
Senior Zane King was in the paint in the last seconds defending the goal as if his life depended upon it.
"It was stressful," King said. "They got about three chances to win it, but luckily there was a lid on the rim and it didn't go in. I couldn't be happier right now.  It was thrilling and we came back and won by one which is all we could hope for."
At the end of regulation, Fayetteville and Har-Ber were tied 57-57 after the Wildcats trailed the Bulldogs by double digits most of the game.
The crowd played a big factor in the game. Senior Lincoln Rasmussen led the charge on to the court and started the mash pit afterwards.
"I'm overwhelmed right now. The administration tried to hold us back off the court, but you just can't do that. The first half the mood was kind of down, but we came into the second half and we just came back and we played Har-Ber basketball," Rasmussen said.
The Wildcats trailed the Bulldogs at halftime 38-25, and it looked like Har-Ber's first conference loss was just 16 minutes away. However, head coach Scott Bowlin believed his team just had to make it to the fourth quarter and keep it close for them to win the game.
"I told them that they gave us their best shot," Bowlin said, "and we just need to keep doing what we were doing. We needed to cut it to like five, six, or seven points at the start of the fourth quarter and felt like we would be fine once we got there."
Senior Ryan Taylor played the last minutes of the game, and his 14 points contributed to the victory. The team had a string of three pointers in the 3rd quarter, which proved to be the turning point of the game.
"All of those threes helped us, and it got us our momentum on defense. It was crazy. I have never been in one of those games before," Taylor said.
  This victory was crucial to the team in conference play, as Fayetteville is one of their biggest rivals. Sophomore Tylor Perry had 13 points, including the game-winning free throw on the second of the two shots. That basket from the charity stripe proved to be the deciding factor.
"We were excited," Perry said. "We needed this win as much as they did, and it was good to come out with it."