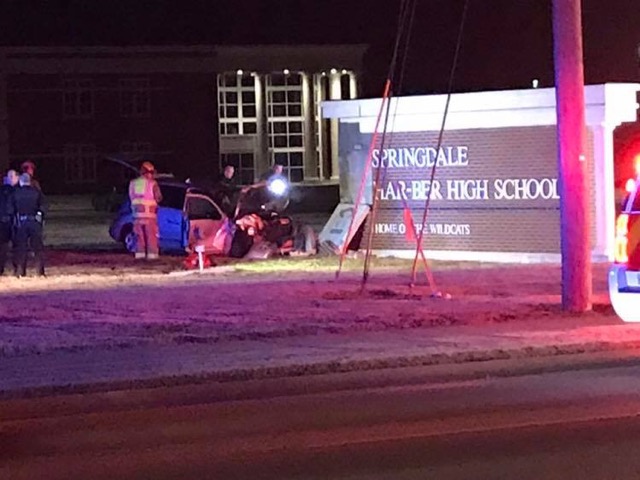 Students returned after Thanksgiving break and noticed something a bit out of the ordinary upon arrival. The brick sign displaying the name of the school located at the east entrance has been damaged due to a car hitting the corner of the sign closest to the school.
At approximately 6 p.m. on Nov. 17 a 2007 Chrysler PT Cruiser headed north struck the corner of the sign located closest to the the school.
The driver hit the curb at the intersection of Jones Road and Coyote Crossing, crossed all five lanes on Jones Road, jumped the opposite curb and collided with the sign.
Law enforcement, as well as paramedics, arrived at the scene at approximately 6:08 p.m. The driver, who at the time of the crash was not wearing a seatbelt, was taken to Northwest Medical Center due to suspected serious injury, according to the police report.  
The total damage report was an estimated $2,500 damage to the sign in which a representative of the school district was notified.
"The projected time is around February," Director of Maintenance Jeremy White said. "We are having to have custom parts made, and they won't be ready till the second week of January."
Additionally there was a suspected $4,000 worth of damage to the car which was towed to NWA Towing & Recovery.
"I didn't hear anything, but when I looked over there, I saw smoke," teacher Kinsey Dickey said. "I still didn't realize how serious it was since it was difficult to see so far away." Dickey was supervising an event at the school when the crash occurred and made the 911 call.  
The driver, a 51-year-old woman from Fayetteville, was uninsured at the time of the crash, and had a suspended driver's license. In the police report, the driver stated that she was trying to harm herself and that she was aiming for the sign.
While she received severe injuries, none of them were life-threatening.  Visit the national suicide hotline,1-800-273-8255, if you are considering harming yourself.