DTSOI Student Joins Silver Stars
While attending Don Tyson School of Innovation(DTSOI), senior Bella Scaccia joined Har-Ber's Silver Stars dance team. Scaccia joined the dance team for her senior year of high school, so she could be a part of a school activity since DTSOI doesn't have any sports. She participates in both studio and school dance, so she has a busy schedule on her hands. 
"I wanted to join Silver Stars because I wanted to dance more, be more involved in a school activity, and meet new people," Scaccia said. 
According to Scaccia, she tried out for Silver Stars in May. The virtual process to try out was that Coach Dawn Rhodes sent out a video of a dance that consisted of three styles: pom, kick, and jazz. They had to learn these dances in one week and had to film a video to send in to the coach online. She is not only a part of the Silver Stars dance team, but she is a dance member that competes for Rhythm and Shoes Dance Studio. The school dance team's practice times include during fourth period at 12:30pm every day, Tuesdays from 5:45am to 7:30am and 6pm to 8pm, Wednesdays from 6am to 7:30am, Thursdays from 5:45am to 7:30am, and Sundays from 2:30pm to 6pm. On top of this busy schedule, her studio dance times are Mondays at 6:45pm to 9pm, Wednesdays from 7pm to 8:45pm, and Thursdays from 4:30pm to 7pm. 
"My favorite part about being on the dance team are my teammates and performing at the games," Scaccia said.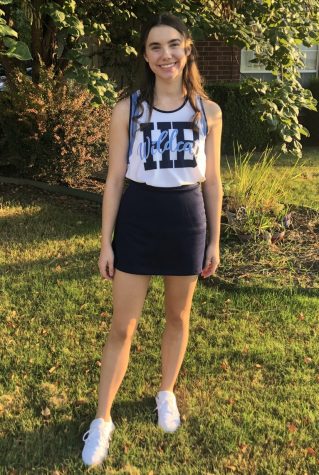 Since Scaccia is a student at DTSOI, she worked with her counselors to make a schedule that revolves around her dance practice times. She goes to school face-to-face everyday for only two class periods where they do block scheduling, however, the rest of her classes are online. After she is finished with her two classes in the morning, she drives to Har-Ber for practice at 12:30pm. 
"Instead of taking all classes in person, I take some of my classes online in order to have study halls or travel periods in order to get to Har-Ber for practice," Scaccia said. 
Furthermore, Scaccia has had some issues with her schedule for practice. For the first week of school, the office staff at DTSOI wouldn't let her leave the premises even though her schedule showed a traveling period on it. Another issue that she has encountered is that driving from school-to-school has made getting gas every week expensive. Although she is busy, she has learned to manage her time with school work by staying awake until around midnight to complete assignments. 
"Competition dances consist of three different styles including jazz, kick, and pom. We will go to a few competitions and compete against other schools. Field dances are what the Silver Stars are known for. The field dances are kick routines that we do during half time of football games," Scaccia said. 
For the dance team, Scaccia is a part of both competition and field dances. To try out for competition dance, she had to send in a video of specific skills and routines for the judges to watch. Once practices started with all of the members together, they had another final "try out" so the coaches could see how they could dance in person. 
"My favorite part about performing in front of an audience is just seeing the crowd and the reaction," Scaccia said.