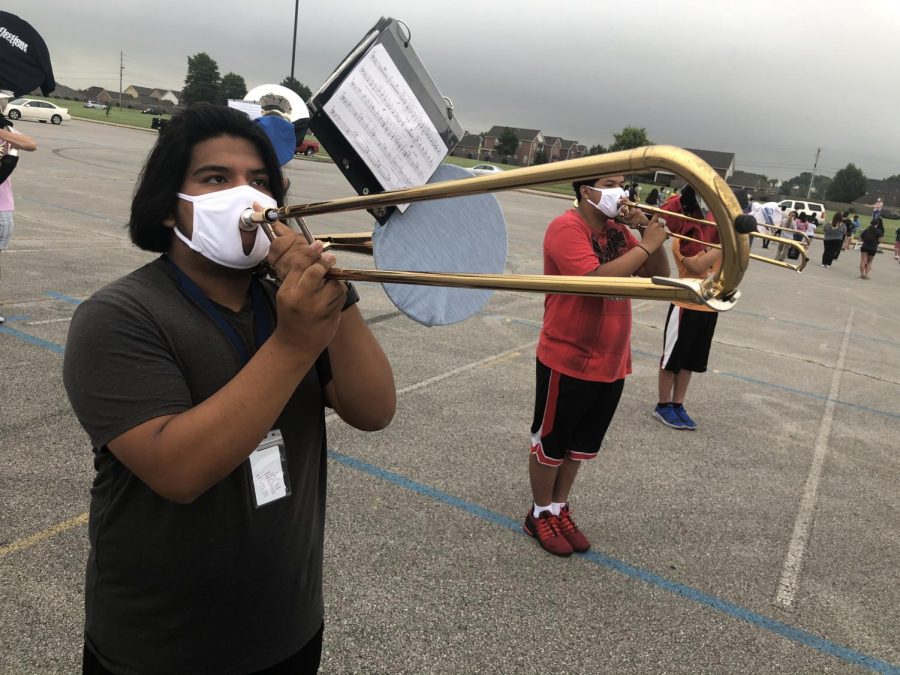 Karla Sprague
Rolling up to school in the morning, the first thing heard is the band playing. The sounds of the marching band echo through the parking lot. This year though, those sounds are muffled by the coverings over every instrument. 
"We have to wear face masks with holes in them when we're inside," junior clarient player Colby Gainer said. 
They also have to cover the parts of their instruments where sound comes out. For Gainer, who plays the clarinet, she and the other clarinets have to wear a "bag" over their entire instrument.
"It has holes for the hands," Gainer said, "the sounds muted more, but it is what it is."
With all of these new COVID-19 rules, the struggles of every instrument are different.
"For the drumline, it's hard to play cleanly together while being spread out," said junior snare drum player Jaxon Krueger.
According to senior saxophone section leader Reese Dodd, this year is different from all the others. The traditions have been put of hold since the bad can not actively march.
"It's almost a disruption in tradition," Dodd said, "we've always been able to march and we always pass it onto the next grade."
Gainer makes it clear that the strong community of band will never change. 
"I eat in the band room at lunch, and I see how more groups have formed," Gainer says. "I think a lot of people have grown closer at the same time because they can't be closer in other ways." 
According to Dodd, the community has held the band together through this tough time.
"Just being together. That's like, the one thing that we've always had, is each other. It has always been a community," Dodd says.
Even with everything going on, the band has prepared and practiced like nothing has changed.
"We're playing the best pieces out of Harber's history of band," Dodd says. 
Some of those pieces include, "the music is Georgia On My Mind, the Queen opener, The Sound of Silence and a piece called Malaguena." 
"Right now I'd say my favorite part is playing the Queen opener. I like the music better than last year's show," Dodd says,"it's more challenging. And I think it's something that the audience will enjoy."
Dodd may enjoy their music better than last year's music, while Gainer believes the music band director Jeremy Ford picked some of the hardest music from the past.
According to Dodd, the main concern of the football game is spacing out and social distancing. 
"Without a doubt,"  Krueger said, "it would be playing Hip-Hop Stadium Blasters. I'm pretty sure it's everyone's favorite."
The bands hard work is shown off every year through their performances, and even without marching and with all the new changes, Krueger agrees they continue to work hard.
"Everyone works hard every year, but they have been especially resilient this year," Krueger said.