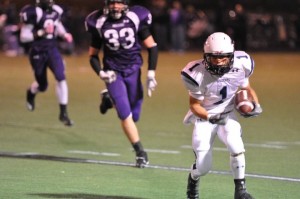 He glances up at the clock and sees that there is only 17 seconds left on the clock.
The scoreboard reads, "51-48," with Fayetteville in the lead.
The crowd roars in the background as the Bulldogs ready for the kickoff. He knows this could be one of the last chances his school gets.
He had to make it count. Fayetteville kicks the football and it nears towards senior Shawn Sayarinh.
He catches the ball, and returns it for a 92 yard touchdown with three seconds left, ensuring Har-Ber the win they had been fighting for all night.
"When I went through the line it was like a war zone - pads poppin', bodies flyin'." said Sayarinh "Lancelot blocked for me and opened the hole up for me even more." Sayarinh dove into the end zone before any Fayetteville players could get to him and ran to the sideline as if the school had won.
The crowd cheered as Coach Wear congratulated Sayarinh saying, "You deserved that. You needed that."
Since Sayarinh had previously attended school in Fayetteville, they understood just how fast he was.
"I went to elementary school with some of those guys so they knew," said Sayarinh.
Sayarinh is the school's main kickoff return specialist, but was only given one chance that night. He most certainly made his one opportunity worth while.
"He couldn't quit smiling," said Coach Wood. "It was a huge win for us."
This was the school's first kickoff return for a touchdown this season. It was also the first allowed by the Bulldogs.
"I still have more to go, but this was definitely my best moment so far," said Sayarinh. "I feel like I need to work harder. People expect me to do more."
Sara Lachance
Apr 26, 2013

Target's DIYplants result in disappointment

(Story)

Apr 26, 2013

The Era of Sara: Adios Har-Ber

(Story)

Apr 19, 2013

Slayton proves skill in goal

(Story)

Apr 12, 2013

Students compete at Skills USA

(Story)

Apr 03, 2013

The Era of Sara: Failure to Communicate

(Story)

Mar 30, 2013

Senate bill 881 holds possible change for debate team

(Story)

Mar 29, 2013

Student Resource Officer moved out of SRO program

(Story)

Mar 29, 2013

Unique website advertises incredible products

(Story)

Mar 15, 2013

Students, teachers escape for Spring Break

(Story)

Feb 22, 2013

The Era of Sara: My love for road trips

(Story)

Feb 22, 2013

8th International Festival spreads culture

(Story)

Feb 15, 2013

A Good Day to Die Hard fails to live up to expectations

(Story)

Feb 08, 2013

Gray crowned Winter Homecoming Queen

(Story)

Jan 31, 2013

Students able to graduate due to online classes

(Story)

Jan 28, 2013

Williams gains experience in fashion

(Story)

Jan 28, 2013

Students fix iPhones for less

(Story)

Jan 28, 2013

Intramural tournaments feature powder puff, men's volleyball

(Story)

Jan 28, 2013

Most recent senior skip day pointless

(Story)

Jan 25, 2013

The Era of Sara: Fears of the future

(Story)

Dec 23, 2012

Schools install new safety system to prevent intruders

(Story)

Dec 05, 2012

Lady Wildcats prepare for upcoming season

(Story)

Nov 30, 2012

Swim competes in third meet of the season

(Story)

Nov 30, 2012

The Era of Sara: I am a Directioner

(Story)

Nov 16, 2012

EAST hosts Masquerade Ball

(Story)

Nov 07, 2012

Volleyball loses in second round of state

(Story)

Nov 01, 2012

The Era of Sara: My scar Wormie

(Story)

Oct 26, 2012

Snyder wins new car

(Story)

Oct 18, 2012

O'Brien manages to remain calm as varsity kicker

(Story)

Oct 05, 2012

Pianalto takes on leadership role as junior

(Story)

Oct 05, 2012
Oct 05, 2012

Pitch Perfect proves to be 'A-ca-larious'

(Story)

Sep 27, 2012

Demanding seniors breeze in at the whistle

(Story)

Sep 17, 2012
Sep 05, 2012

Accountability grades enforced

(Story)

Sep 05, 2012

State receives NCLB waiver

(Story)

May 25, 2012

Obama affirms his position on marriage

(Story)

May 11, 2012

Snowcone hot spots

(Story)

May 11, 2012

Bleu Monkey Grill review

(Story)

May 07, 2012

Student keeps promise to mother; first family member to graduate

(Story)

Apr 20, 2012

Students 'tame' longboarding

(Story)

Apr 06, 2012

UDSA regulates meat product

(Story)

Apr 04, 2012

Mcdowell takes first in Youth Suicide Prevention contest

(Story)

Mar 29, 2012

Spring Fashion trends for 2012

(Story)

Mar 02, 2012

Draw Something review

(Story)

Feb 23, 2012

Art students create personalized basketballs for senior players

(Story)

Feb 03, 2012
Feb 03, 2012

Golden Dragon Buffet restaurant review

(Story)

Feb 02, 2012

Rodeo Queen places first at nationals for FFA

(Story)

Jan 27, 2012

Senior discovers new outlet to release rage

(Story)

Jan 11, 2012

Genghis Grill review

(Story)

Jan 09, 2012

Sharin' thoughts with Sara

(Story)

Nov 21, 2011

Fans go hard for new Twilight movie

(Story)

Nov 14, 2011

TV Productions win six awards at VidCon

(Story)

Nov 01, 2011

Student creates masterpiece in courtyard

(Story)

Nov 01, 2011

Sara's short stories

(Story)

Oct 19, 2011

Senior Raneesha Brown awarded 2011 Fall Homecoming Queen

(Story)

Oct 19, 2011

Snakes slither their way into school

(Story)

Sep 25, 2011

Spanish students create childrens' stories

(Story)

Sep 25, 2011

Student travels to Ecuador

(Story)

Sep 14, 2011

Missouri's Amy Hestir Student Protection Act goes too far

(Story)

Sep 08, 2011

Father, daughter ride west

(Story)

Sep 06, 2011

School cancels Playschool program

(Story)

Aug 28, 2011

"The Help" Movie Review

(Story)

Aug 24, 2011

New teacher joins science department

(Story)

Jun 01, 2011

Disney's Pirates of the Caribbean doesn't disappoint

(Story)

Jun 01, 2011

Ninja Turtle legacy continues

(Story)

Jun 01, 2011

New Trend Takes Flight

(Story)

Jun 01, 2011

Colette Carr's (We Do It) Primo

(Story)

May 12, 2011

Student feels relief over bin Laden's death

(Story)

May 12, 2011

Lee wins title of Mr. HBHS

(Story)

May 12, 2011
May 11, 2011
Apr 27, 2011

Lady GaGa's "Judas"

(Story)

Apr 27, 2011

Sharin' with Sara

(Story)

Apr 26, 2011

Students celebrate Spanish weddings, quinceañeras

(Story)

Apr 25, 2011
Apr 03, 2011
Apr 03, 2011

Sharing Thoughts with Sara

(Story)

Mar 09, 2011

Gartner's injury ends basketball season; thwarts soccer plans

(Story)

Mar 07, 2011

Earthquake Shakes NWA

(Story)

Mar 01, 2011
Mar 01, 2011

Student meets famous singers

(Story)

Feb 18, 2011

Wherefore art thou "Gnomeo?"

(Story)

Feb 16, 2011

Cable Car Pizza Introduces New Wildcat Pizza

(Story)

Feb 08, 2011

There's an app for everything

(Story)

Jan 30, 2011

Sophomore lands spot in All-Region Band

(Story)

Jan 30, 2011

Rainey's students teach Spanish to Smith Elementary students

(Story)

Jan 23, 2011

Reina wins Gatorade award

(Story)

Jan 07, 2011

Mockingjay Review

(Story)

Dec 14, 2010

Students compete in 72-hour movie challenge

(Story)